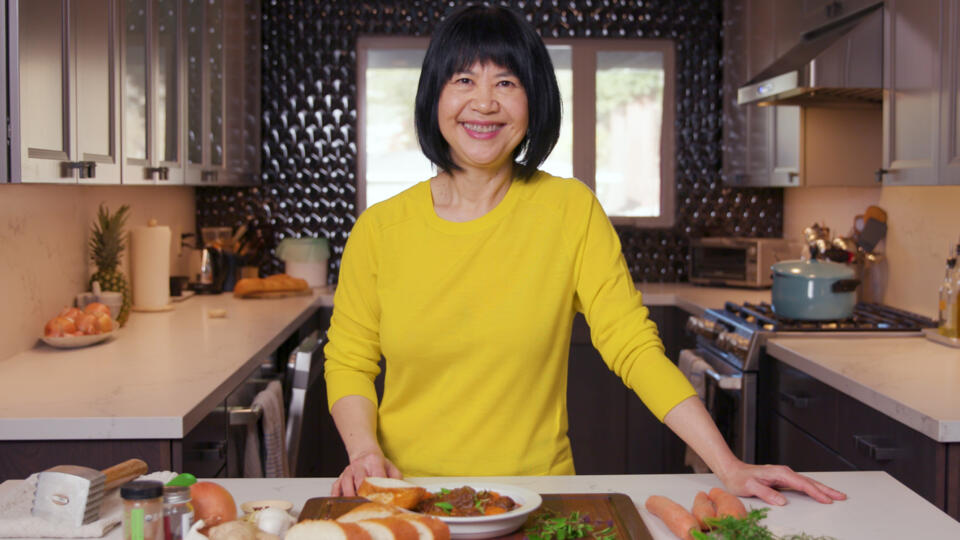 Watch the full video now.
The foods of Vietnam taste of history. Their refreshing flavors, varied textures and vibrant colors reflect the country's nearly two millennia of foreign incursions and local adaptation. The result: a unique culinary blend of ingredients and techniques from East Asia and Southeast Asia, with a touch of the West.
It starts with geography. Vietnam's lengthy coastline has long invited foreign traders and intruders—especially its northern neighbor, China, which began colonizing Vietnam in the first century B.C. The Chinese pushed into Vietnam on and off for about a millennium, influencing social structures, language and food. After numerous uprisings, including one led by two sisters, the Vietnamese gained independence in 939 A.D. They emerged from that era as survival artists, having added Chinese words to their vocabulary and Chinese spices to their foods. They intermarried and adopted cultural elements ranging from Buddhism to chopsticks.
Over time, new foreign aggressors such as the Mongols and Europeans arrived, and Vietnamese culture continued to selectively absorb—and reinterpret—new ideas. The 20th century brought a devastating civil and proxy war, along with French, Japanese and American presence. On Vietnamese soil, already enriched by ideas from near and far, cultures rubbed shoulders to yield iconic dishes: Pho noodle soup reflects the French love of beef (before they arrived, the Vietnamese mostly used cows as beasts of burden, not as a food source), while banh mi sandwiches make prominent use of the French baguette.
The Vietnam War officially ended in 1973. But promises of a cease-fire and peaceful reunification between North and South Vietnam quickly vanished as hostilities resumed. In April 1975, when pro-Western South Vietnam fell to communist North Vietnam, a flood of southern Vietnamese scrambled to escape. More than 130,000 people were evacuated in 1975 alone, and many others followed via boats and orderly departure programs. They seeded Vietnamese communities all over the globe. Wherever Vietnamese refugees settled—whether that was San Jose, Paris or Sydney—they brought food memories with them.
This video tells the story of my family's journey to America and how we preserved our culture and identity through food traditions. Among the few possessions my mother could cram into a single shoulder bag when we quickly fled the country, she brought a notebook of handwritten recipes as a lifeline to our past. But as we adapted recipes to new circumstances, we evolved the flavors of Vietnam and found a path to not just being Vietnamese in America—but to be Vietnamese Americans.
Bò Kho, a Vietnamese Beef Stew
Ingredients
2 1/3 pounds boneless beef chuck, well trimmed (about 2 pounds after trimming) and cut into 1 1/2-inch chunks

1 hefty stalk lemongrass, loose leaves discarded, cut into 3-inch lengths, and bruised with the broad side of a cleaver or chef's knife

3 tablespoons fish sauce

1 1/2 teaspoons Chinese five-spice powder

2 1/2 tablespoons peeled and minced fresh ginger

1 1/2 teaspoons brown sugar

1 bay leaf

3 tablespoons canola or other neutral oil

1 yellow onion, finely chopped

2 cups peeled, seeded, and chopped fresh tomato or 1 can (14 ounces) crushed tomato

Generous 1/2 teaspoon salt

2 star anise (16 robust points total)

3 cups water

1 pound carrots, peeled and cut into 1-inch chunks

1/4 cup chopped fresh Vietnamese coriander or Thai basil leaves
Instructions
In a bowl, combine the beef, lemongrass, fish sauce, five- spice powder, ginger, brown sugar, and bay leaf. Mix well with chopsticks to coat the beef evenly. Set aside to marinate for 30 minutes.

In a heavy-bottomed 5-quart Dutch oven, heat the oil over high heat until hot but not smoking. Working in batches, add the beef and sear on all sides, then transfer to a plate. Each batch should take about 3 minutes. Reserve the lemongrass and bay leaf from the marinade and discard the rest.

Lower the heat to medium-low, add the onion, and cook gently, stirring, for 4 to 5 minutes, or until fragrant and soft. Add the tomato and salt and stir to combine. Cover and cook for 12 to 14 minutes, or until the mixture is fragrant and has reduced to a rough paste. Check occasionally to make sure the tomato mixture is not sticking to the bottom of the pan. If it is, stir well and splash in some water.

When the paste has formed, add the beef, lemongrass, bay leaf, and star anise, give the contents of the pot a bit stir, and cook, uncovered, for another 5 minutes to allow the flavors to meld and penetrate the beef. Add the water, bring to a boil, cover, lower the heat to a simmer, and cook for 1 1/4 hours, or until the beef is chewy-tender (a sign that it is close to being done). To test for doneness, press on a piece; it should yield but still feel firm.

Add the carrots and return the stew to a simmer, adjusting the heat if needed. Cook, uncovered, for about 30 minutes, or until the carrots and beef are tender. (This stew may be made up to 2 days in advance. Let cool, cover, and refrigerate, then bring to a simmer before continuing.)

Just before serving, do a final taste test. Add salt or a shot of fish sauce to intensify the overall flavor. Or, splash in a bit of water to lighten the sauce. Transfer the stew to a serving dish, removing and discarding the lemongrass, bay leaf, and star anise. Garnish with the Vietnamese coriander and serve.
Andrea Nguyen is a cooking teacher and the James Beard Award-winning author of numerous cookbooks, such as The Pho Cookbook, The Banh Mi Handbook and Into the Vietnamese Kitchen, which includes this recipe.