On May 31, 1921, Tulsa, Oklahoma's Greenwood District was a thriving Black residential and business community — Booker T. Washington called it "Black Wall Street." By June 1, white supremacists, with the approval of law enforcement, had reduced it to ashes. Hundreds were dead and thousands interned. The Tulsa Race Massacre remains one of the worst episodes of racial terror in 20th Century American history.
Yet, many people—including generations of native Tulsans—didn't learn about the incident until recently. It was snipped out of newspaper archives, left out of school curricula, and rarely spoken about by survivors. A century later, Greenwood still fights the effects of white supremacy—historical and current—and promotes itself as a beacon of hope and ambition.
In this six-episode narrative podcast, WNYC's KalaLea considers the life of these remarkable 35 blocks of Tulsa through the stories of the people who lived there and their descendants. We'll revisit the founding of Oklahoma, the discovery of oil and the subsequent explosion of wealth and possibility; and we'll re-examine how that wealth (and the laws governing it) flowed from Native Americans into the hands of whites. We'll find out what made Greenwood thrive and track the forces hellbent on its demise. We'll hear from people whose lives the attack transformed once and for all. We'll visit Greenwood today and try to understand the legacy of the Massacre—its lasting impact on Tulsa, and our country. As Tulsans are reckoning with their history as never before, we'll ask what justice looks like and how it might be achieved.
Blindspot: Tulsa Burning is a co-production of The HISTORY® Channel and WNYC Studios, in collaboration with KOSU and Focus Black Oklahoma.
Blindspot Podcast, Season 1

The Road to 9/11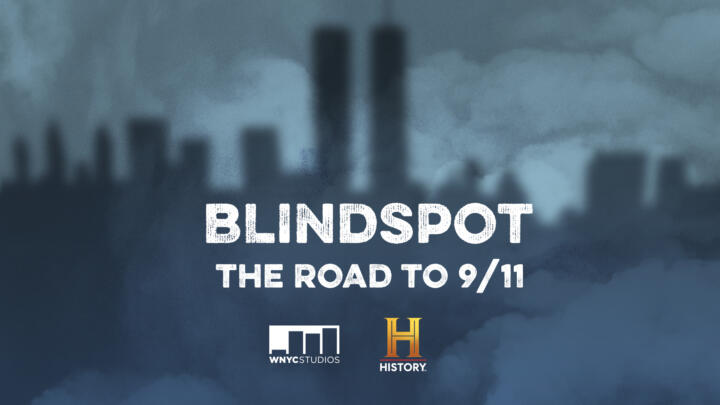 An original 8-part podcast hosted by WNYC's Jim O'Grady and co-produced by HISTORY in partnership with WNYC Studios. "Blindspot: The Road to 9/11" will bring to light the decade-long shadow struggle that preceded the attacks. The podcast series will discuss the existential threat at stake in every turn, the human drama of political motives and personal ambitions, and the glaring mistakes and unfortunate blind spots that led to the modern world's single most devastating act of political terrorism.
Based on HISTORY's television documentary "Road to 9/11," Blindspot will draw on interviews with more than 60 people – including FBI agents, high level bureaucrats, journalists, experts, and people who knew the terrorists personally – and weaves them together with original reporting to create a gripping, serialized narrative audio experience.